Elle Maison
collaborator architects: Enrico Massimino, Roberto Pascale
photos: Andrea Martiradonna
Elle Maison is a private house located in the outskirts of Geneva on a quite high plateau with a wonderful view over the city and the lake. The whole lot has an overall area of 830 sqm of which 247 are built. The plan is north-south oriented, but the facade of the building follows a different axis.
"The owners are a married couple of a scientist and an international trader who decided to move from Italy to Geneve after a great job opportunity. They found us by chance, googling a contemporary architect. When we met the first time, they loved the idea of a house in a peaceful area overlooking the valley. Soon after we found a lot on the hills just 10 km away from the city facing the Alps with towering Mont Blanc", reveals architect Duilio Damilano.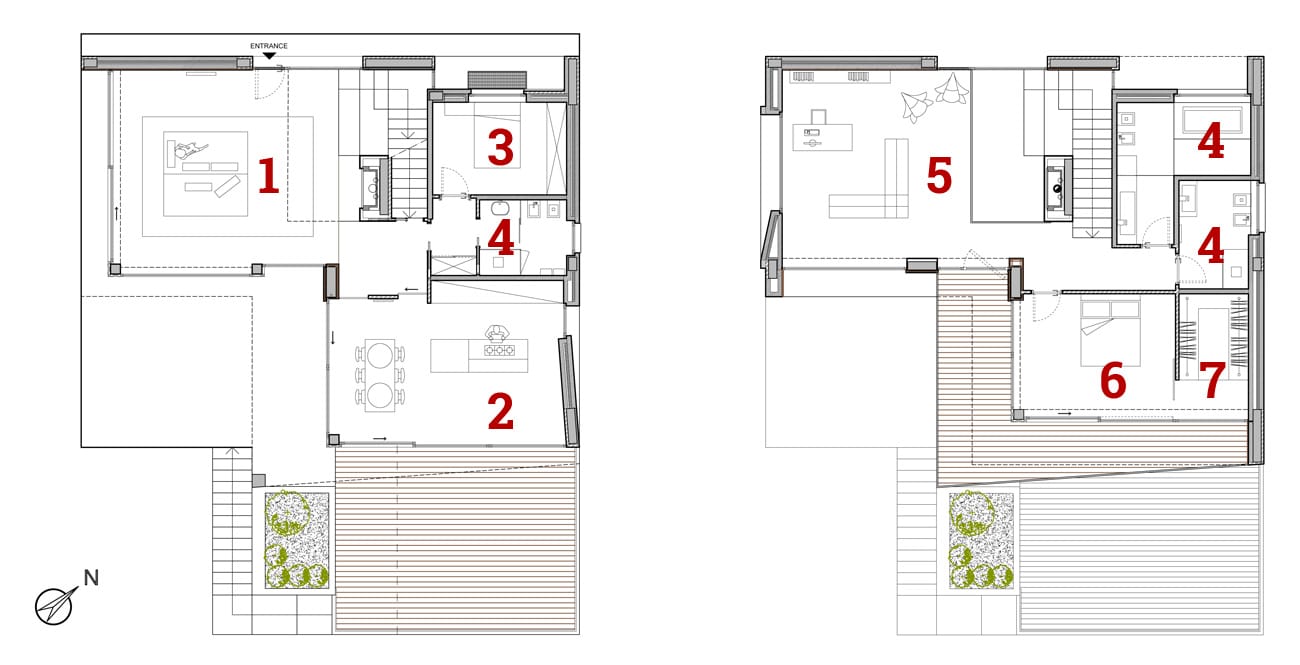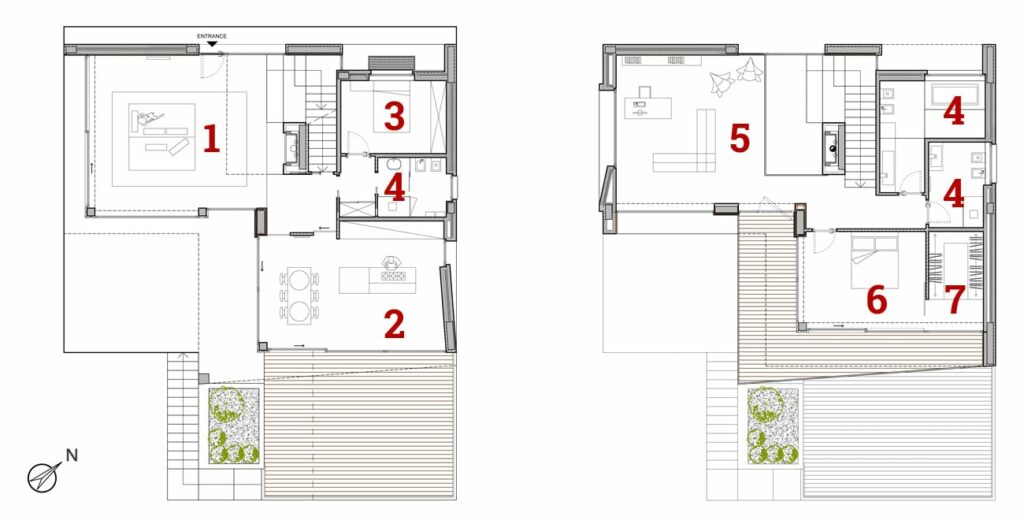 FLOOR PLANS
living area
kitchen/dining area
guest bedroom
bathroom
studio
master bedroom
walk-in wardrobe
"The transparency of this house reflects the freedom of spirit of its owners. Due to their heavy workload, all they needed was a break from the hectic pace of city life. In total there are 125 sqm of windows, most of them on the view and exposed to the sun. The feeling is just that of being immerse in nature."
The interiors were entirely designed by Damilanostudio Architects, who have chosen a clean linear scheme characterised by few dominant materials: floors are underheated and covered with white tiles; walls and ceilings are white painted and partially cladded with the same chestnut wood used for the window frames. All furniture and lighting were chosen according to customers' taste.
"After visiting several showrooms with our clients, for the lighting we favoured Delta Light, Artemide and Foscarini; for the furnishings and fittings we choseEdra, B&B Italia, Boffi Cucine, Mdf, Gallotti & Radice as well as Tubes radiators."
For the exteriors, Damilanostudio decided to mix natural materials like stone and wood with corten steel and glass. The result is a colour-balanced harmonic composition, where all the facades fit perfectly into the landscape.
"The landscape design was intended to arouse chromatic and olfactory sensations. We have mixed dark gravel with grass, flowers and plants with different colours and scents contained in corten planter boxes. The roof is covered with sedum that reduces the impact on the environment and improves the energy efficiency of the villa. The terraces are paved with grey Quartzite stones with continuous glass railings whose structure is hidden under the floor."
---